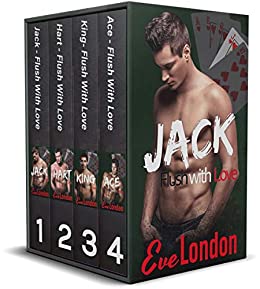 Part of the
Flush with Love
series:
Flush With Love Series: A collection of short flirty romance reads
His biological clock was ticking… I thought he was winding me up!
Jack
Diane Bauer and our babies were all I ever wanted. Until I messed it up. Now she's unexpectedly underfoot, and I couldn't be happier. Especially when I see her tickling that cute toddler she just rescued.
Diane
Four years ago Jackson Bender decided I was too young for him and his urgent family plans. Today I'm flirting up a storm next to his car, hoping he's the one who has matured. Maybe this time I can get Jack to take a gamble on me. On us.
Never kiss a girl whose family want to bury you in the desert.
Hart
I'm a computer nerd by day. By night, I'm an exciting, exhuberant—wait, I'm a computer nerd by night, too. Damn. Nerd or not, I'm man enough to join Valerie Pinto for a night of sensual fun. Maybe she plans to sacrifice me on an altar once she gets my clothes off, but it's a chance I've been waiting to take all year long.
Valerie
Hart Bradley and I should not be compatible. He's never even been to a topless review and anyone can see - he's kinda scared of me. My bestie warned me to stay away, but I can't resist those dreamy eyes and his chiseled jawline. He's so normal and sensible, what could possibly go wrong?
Women love to gamble. They get married, don't they?
King
I'm a PR fanatic. A Vegas marketing machine. Forget Elvis—I am the King. Sixty hour work weeks got me where I am. The cost? I've never found my Mrs. King. Now my mother has delivered a stinging ultimatum. Show up in California with a plan for your future, or lose the family home you grew up in. She's not selling my home, either. She's gifting it to my awful cousin, Wesley. Over my dead body.
My mother isn't playing around and no matter how I try to spin it, the fact remains. I need a wife.
Kate
I'm a champion fundraiser. A problem-solving machine. Forget empathy—the women I help need cash. They need a roof over their head, furniture, clothing, and job opportunities. My whole life is wrapped up in my work and I'm destined to die an old—but dedicated—spinster. I've never come close to finding 'the one', so when Kingston Myer needs a wife, I know just what to ask for in return.
I'll do anything to raise funds to help desperate women, even if that means marrying a stranger, but no matter how I try to hide it, the fact remains. I'm falling for him.
They say never bet against the house. I say never bet against me.
Ace
I adore Vegas and I adore my business. I'm the visionary. The leader. I can't resist an opportunity and I love to watch others take a bet, especially the high-stakes kind. Which is how I find myself trapped in a car on a road trip with the lovely Lily Montrose. Lily works for us, but we've never spoken, because I know I can't be trusted around a woman with a smile like hers and the kind of legs that belong on a showgirl.
I could have hired a driver for this trip. I just like to make my own luck.
Lily
My job in Vegas sucks. To amuse myself, I ogle the scorching hot ass of Ace Dawson, our CEO, every time he visits the coffee machine. It's not like he ever notices me staring from across the office. Outside work, I'm more fun, and there's no friendly dare I won't accept. It keeps life interesting while I wait for my dream guy to notice me.
Until my girlfriends challenge me to ask a guy in a suit on a date. Oh, no. Who knew I'd dare to fall in love?
If you love crazy, spontaneous women, workplace romances, road trips, fake marriages, fish out of water tales, and sexy times with the boss, you'll love the flush With Love series! Grab these four romances today and tuck yourself away for a fun, flirty read.